Do you ever wonder what the inside of the house across the street looks like? What's their floor plan? What's their design style? I do all the time. New houses are still being built in my neighborhood and I love walking through the empty ones before they are sold. This gives me a chance to see other floor plans and how the house is laid out. What makes this experience even better is when the houses are staged. In my neighborhood, there's only one model house that's staged.
When I come across signs for new subdivisions nearby, I love to stop by and take a peak. Model homes are great places to get ideas for your own home. Sure, sometimes model homes are staged very unrealistically and too perfect but gives you general ideas about decor items or placement of furniture. I also like to look online for new subdivisions because usually the model home pictures are there as well.
I love the openness of these two spaces. An open floor plan was definitely at the top of our list when searching for a home. These two homes have a similar layout where the living room and dining room are connected. You can see the difference the furniture has in the look of the spaces. The furnishings in the first are more neutral and wood tones. The second space has greens throughout. The simple addition of hardwood floors in the second changes the feel of the space.
The dark walls of this space grabbed my attention. Even though the walls are dark, the room still feels open and spacious. They used light furniture and curtains throughout the room as not to weigh it down with more dark. The lighter floors also help balance the room. I've been wanting to go gray downstairs but definitely not this dark.
This is a nice study area for two. They created an office in a hall walkway nook. I'm sure we're gonna need something like this when both kids are in school and doing homework.
This same home has a fabulous two story foyer. Love that chandelier!
This home has a beautiful mix of greens and blues throughout. The lighter walls allow the accent colors to be the stars. Seeing those dark wooden rails makes me want to stain ours now. I love those dark hardwoods.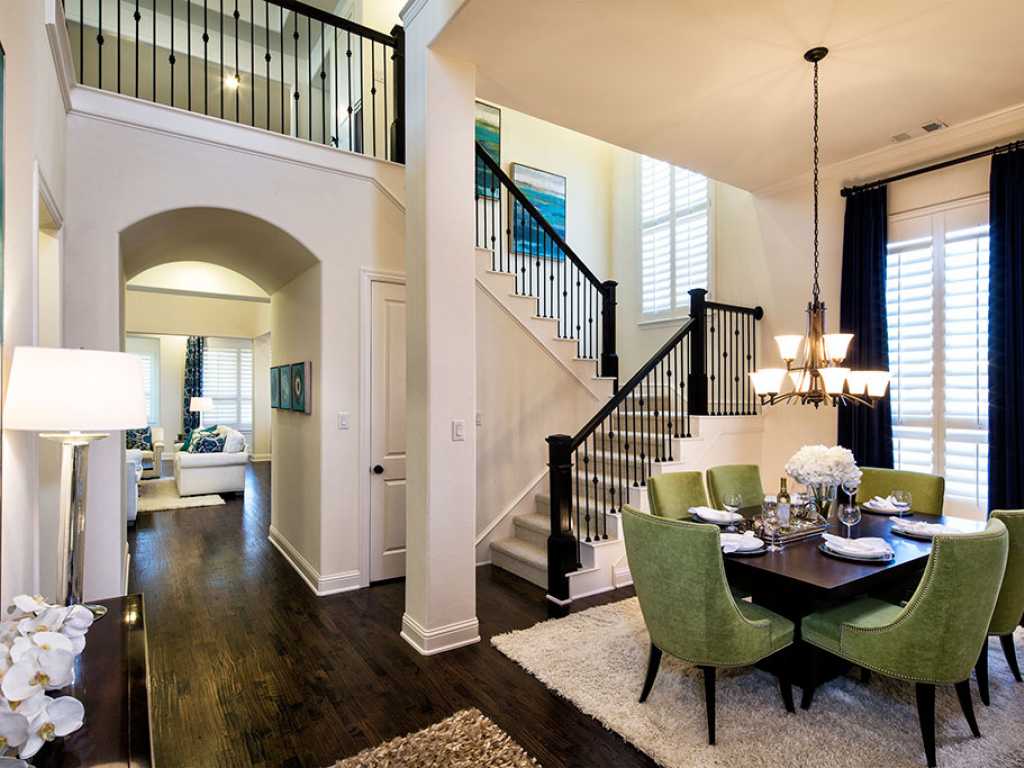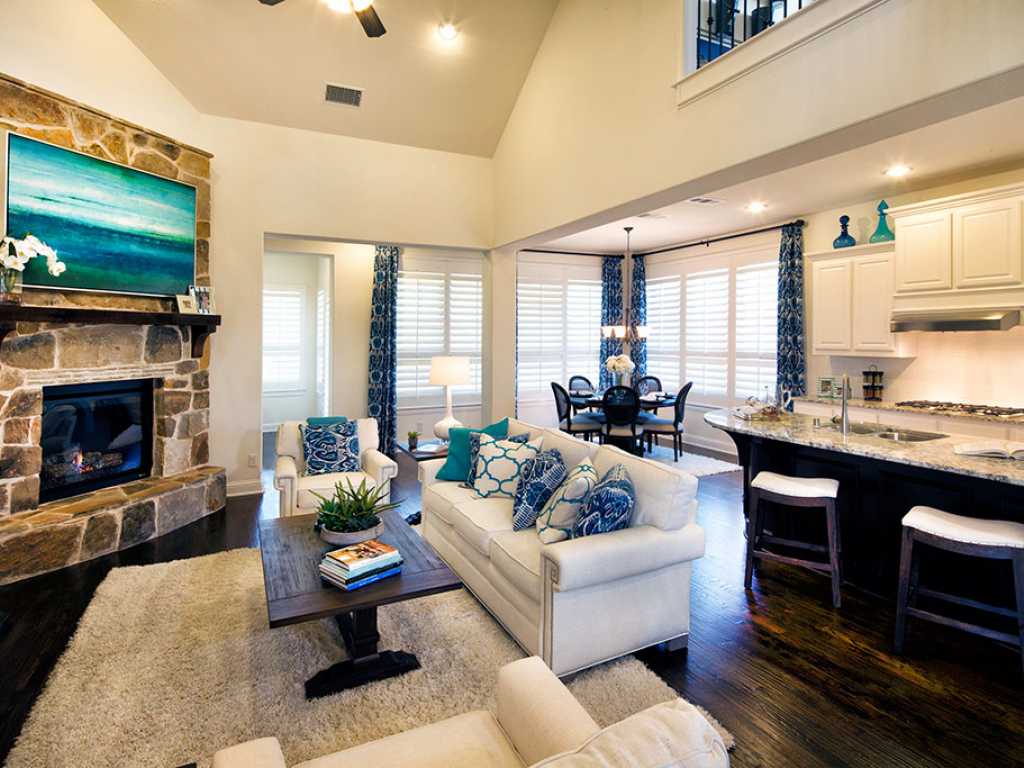 Such a pretty blue in the bedroom. The furniture is all neutral and the curtains, accent wall, and pillows all bring in the color.
I love looking at other homes to find design inspiration. Next time you see a new home sign, pull in and take a look. You may leave with some new ideas.